Imagine you own a small family restaurant in a busy town. Despite offering great food and service, you struggle to attract new customers. You know people use search engines to find local places to eat, but your restaurant doesn't appear on the results first page. On the other hand, a similar restaurant nearby is thriving with lots of customers. You search for restaurants on Google and see your competitor's place at the top with glowing reviews and tempting pictures. Their secret? They are skilled at Local SEO. Wondering what is local SEO?
They attract more local customers by optimizing their website with relevant keywords, accurate information, and positive reviews. In the following sections, we will explore the importance and best practices of Local SEO to help your restaurant shine in the digital world.
What is Local SEO?
Local SEO is the technique of optimizing a website to rank higher in local search results. It aims to improve the business's online visibility for local customers who are searching for products or services in a specific area.
According to Google statistics, 76% of people who use their smartphone to perform a local search visit a business within 24 hours. Additionally, 28% of those searches lead to purchases of products or services. (Source: https://www.thinkwithgoogle.com/consumer-insights/consumer-trends/local-search-conversion-statistics/)

(Source:
https://www.thinkwithgoogle.com/consumer-insights/consumer-trends/local-search-conversion-statistics/
)
An Example To Show You The Real Value Of Local SEO
If someone searches for "pizza outlets near me," local SEO techniques help nearby pizza outlets appear in the top results. It involves optimizing the website's content, using location-specific keywords, managing online reviews, and ensuring accurate business listings on directories. Local SEO helps businesses attract local customers and increase foot traffic to their physical stores.
Do you know? 40% of local SEO campaigns see a fantastic return on investment (ROI) of 500% or even higher. (Source: https://localiq.com/blog/local-seo-statistics/)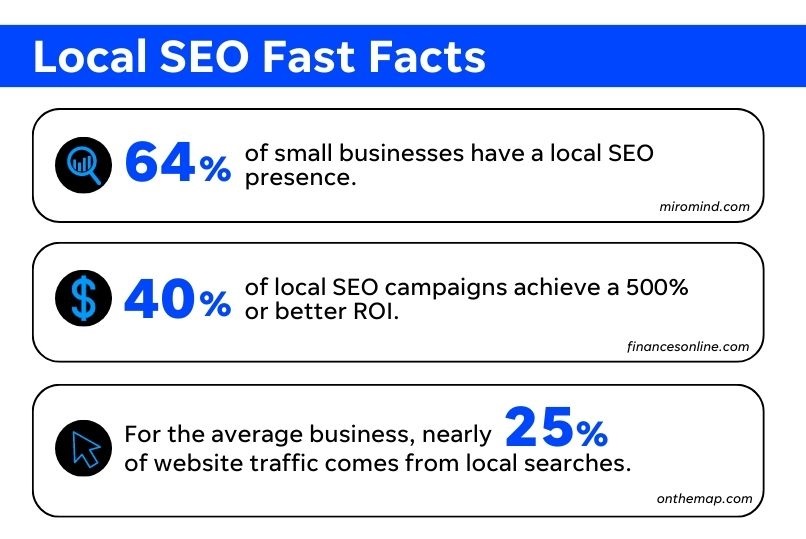 Ideas For Implementing Local SEO For Multiple Locations
To make Local SEO work for multiple locations, follow these steps:
1. Create Pages for Each Location:
Make separate web pages for every location on your website. Include specific info like address, phone number, business hours, and unique details for that place.
2. Optimize Google My Business Listings:
Claim and verify your Google My Business listing for each location. Make sure all details are accurate and the same on all listings. Add relevant categories and good photos, and ask customers for reviews.
In 2020, the factors that influenced local search rankings were studied, and Google My Business (GMB) signals stood out as the most significant, making up 33% of the overall ranking. (Source: https://financesonline.com/local-seo-statistics/)

3. Use Local Keywords and Content:
Research keywords for each location and add them to your website, headings, and meta tags. Create unique and useful content that suits the interests and needs of local customers.
4. Keep NAP Consistent:
NAP means Name, Address, and Phone number. Keep this info consistent on your website, Google My Business, and other online directories. Consistency avoids confusing search engines and customers. Here is a demonstration that shows how to keep up the NAP consistency.

(Source: https://seranking.com/blog/nap-in-seo/)
5. Build Local Citations:
Get your business mentioned on local directories, review sites, and industry platforms. Keep your NAP info the same across all these places.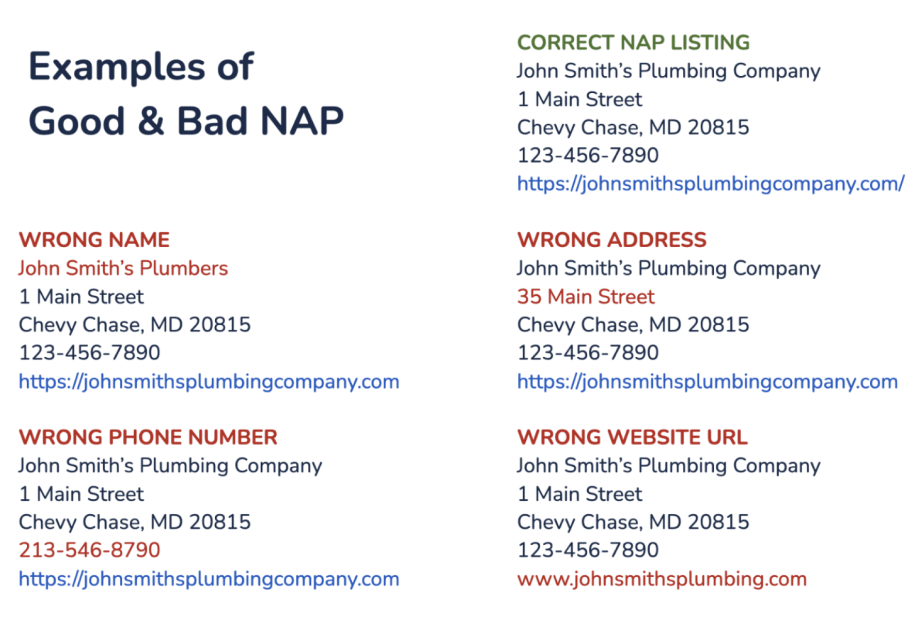 (Source: https://seranking.com/blog/nap-in-seo/)
6. Get Local Backlinks:
Get links from local businesses, organizations, and events related to each location. Connect with the community to build local connections.
7. Optimize for Mobile:
Make sure your website looks good and loads fast on mobile devices. According to Statista, the global count of smartphone mobile network subscriptions reached nearly 6.7 billion in the year 2023. (Source: https://www.statista.com/statistics/330695/number-of-smartphone-users-worldwide/) As many local searches happen on smartphones, take this situation as a positive sign for your local business and concentrate more on creating mobile responsive platforms.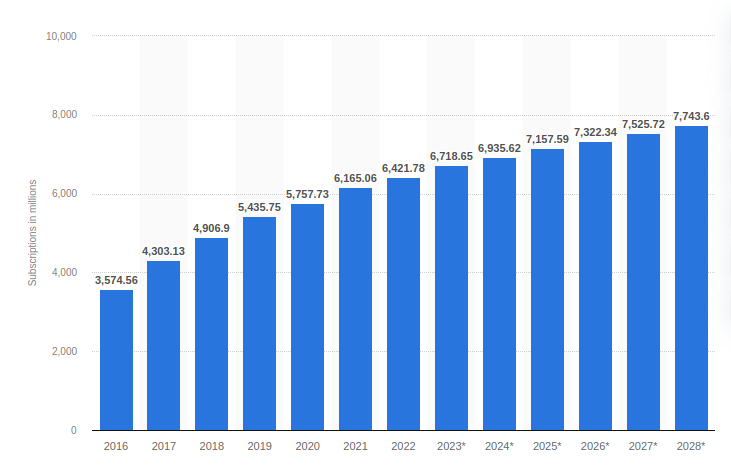 8. Use Localized URL Structure:
If you have separate websites for each location, use a URL structure that shows the location (e.g., https://locations.kfc.com/nj). This helps search engines understand the location's relevance. This is how Google show you the result for a search "kfc new jersey".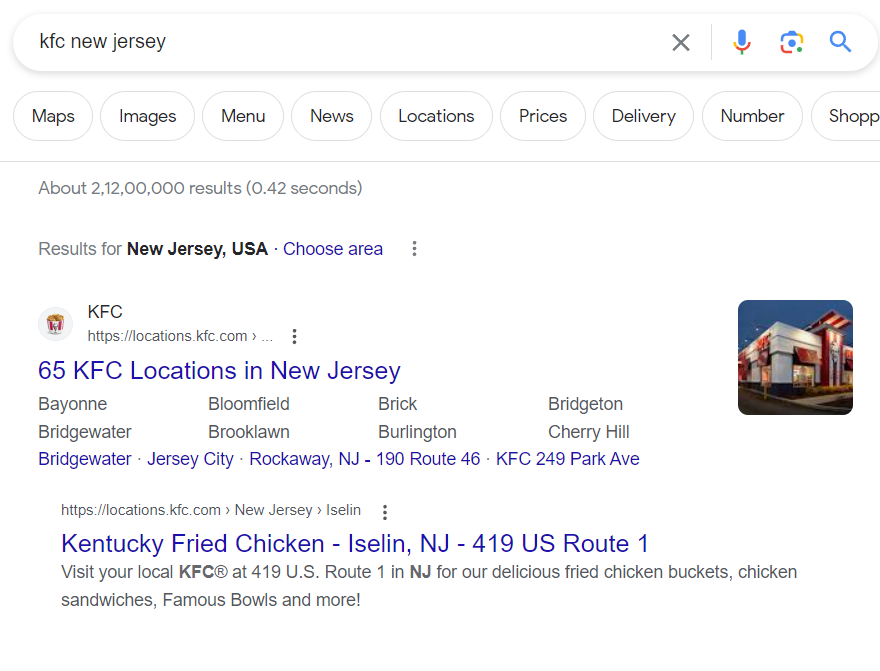 9. Add Local Schema Markup:
Use local schema markup on your website to give search engines structured data about your business and its locations. This can boost your presence in search results.
10. Monitor and Respond to Reviews:
Keep an eye on reviews for each location and respond politely to both good and bad feedback. Engaging with customers shows you care about good service.
Essential Tools To Boost Your Business's Local Presence
Here's a list of essential tools that help in boosting your business's local presence and local SEO management.
Google Business Profile (GBP):
This tool helps you manage and improve your business listing on Google. You can update your details, reply to reviews, and see how customers interact with your business.
Google Search Console:
It helps you see how well your website appears in Google search results. You can find and fix any issues to make your site more visible. This is how GSC shows the performance of your page.
(Source:
https://engaiodigital.com/google-search-console/
)
Google Keyword Planner:
This tool lets you find the best keywords for your local area. Using these keywords in your content can help your business show up in more searches.
Moz Local:
Moz Local helps you keep your business information consistent across different places online. This way, customers can easily find accurate details about your business.
BrightLocal:
This tool offers many Local SEO features, like tracking your business's rank in local searches, checking reviews, and seeing how your competitors are doing.
Yext:
Similar to Moz Local, Yext helps you manage your business information on various directories, making sure it is the same everywhere.
SEMRush:
With SEMRush, you can find the right keywords, see what your competitors are doing, and track your progress in local searches. This is how the SEMrush keyword research tool appears.
(Source:
https://www.semrush.com/features/keyword-research/
)
Whitespark Local Citation Finder:
This tool helps you discover opportunities to get mentioned in different places online, like directories, which can improve your local search visibility.
Screaming Frog:
It is a tool that finds technical issues on your website, helping you improve your search engine rankings.
Ahrefs:
A helpful tool for keyword research, backlink analysis, and checking out what your competitors are doing.
Google Analytics:
This tool gives you valuable information about your website's performance, helping you understand your visitors better. Let's see how Google Analytics displays the website's performance.
(Source:
https://wpflow.com/how-to-monitor-website-performance-google-analytics/
)
These tools are great for businesses looking to improve their Local SEO and get more attention from local customers. Pick the ones that suit your business needs and goals the best.
Final Words
Remember, being consistent, relevant, and accurate is important for successful Local SEO in multiple locations. By understanding the importance of local SEO, tailor your approach to each place and provide valuable content. Thus, you can boost your visibility in local search results and attract more customers to your different business locations.
So, are you interested in creating a local SEO strategy for your business? Get in touch with our team of professionals at Forix SEO today!
Let Us Get the Results You Want
The key to outranking competitors and reaching the top spots in Google really comes down to a comprehensive SEO strategy and a tremendous amount of effort. We have found a way to package both – simplifying SEO for our clients. Our team of experienced SEO professionals can help you achieve the outcomes you want at a reasonable price.