Did you know that the US e-commerce industry generates an annual revenue of over $1000 billion? Forecasts suggest that the revenue figures will grow by 54.59% between 2023 and 2027. The e-commerce industry presents a world of opportunities for entrepreneurs as consumers increasingly opt for online shopping. However, succeeding in this competitive landscape requires strategic planning and execution. If you're an e-commerce business looking to boost your visibility and drive more organic traffic, mastering SEO (Search Engine Optimization) is essential. With the right strategies, you can improve your website's rankings and attract potential customers with ease. Let's break down everything you need to know about acing your e-commerce SEO strategy!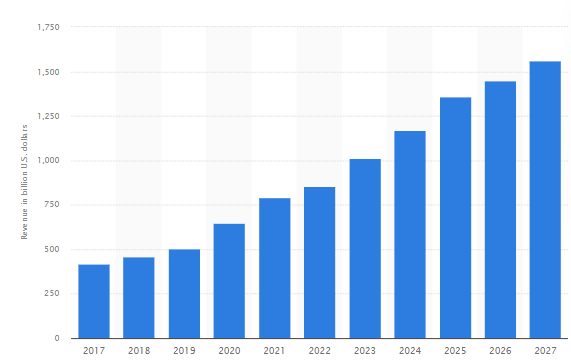 US E-Commerce Industry: Revenues (2017-2027)
(Source: https://www.statista.com/statistics/272391/us-retail-e-commerce-sales-forecast/)
How is E-Commerce SEO Different from Other Forms of SEO?
SEO refers to the process of aligning a website with the search engine ranking factors prioritized by Google. Google, the world's top search engine, sorts through thousands of websites to find relevant results in response to search queries. It aims to maximize value for users and provide them with correct information. The search engine issues quality rater guidelines for assessing websites. It has unique guidelines for e-commerce websites, analyzing them according to specific parameters to determine their ranking.
E-commerce SEO differs from other forms of SEO because it focuses on making a sale. While non-e-commerce sites may focus on goals like brand awareness, e-commerce pages are primarily concerned with selling products. Hence, it is crucial to adopt a tailored approach for your e-commerce site to achieve this objective and rank high on the results page (SERP).
5 Tips to Ace E-Commerce SEO?
Shoppers go online to look for information and products in over 60% of shopping instances. Strategic SEO techniques can help you capture their attention and drive higher conversions for your e-commerce site. Here are some of the best practices that can help you achieve the same:
1. Prioritize Keyword Research
Keyword research forms the backbone of SEO strategies for most websites. But when you want to perfect your SEO gameplan for an e-commerce site, you need to follow the following guidelines to discover the relevant terms and phrases:
Discover Keywords
Find the relevant keywords for your domain and analyze them based on their popularity. Credible keyword research tools can help you discover the best ones. You can focus on a combination of short and long-tail keywords to maximize your chances of success.
Evaluate Keyword Intent
Evaluate the keyword intent for top keywords to understand what searchers are looking for. Here, you must understand when consumers are looking for information and when they are planning to make a purchase. Your site must be optimized to cater to these intents to streamline your lead funnel and maximize conversions. You can check out Google ads to analyze the competitiveness of keywords focused on commercial intent. You can also assess the search results to extract relevant insights for your keyword analysis.
Audit Your Content
Your Google Analytics dashboard will help you identify the bounce rate for your web pages. Are certain pieces of content failing to perform as expected? Review them to understand and bridge the gap between your content and the users' search intent.
2. Create Well-Optimized Product Pages
85% of shoppers prioritize product pictures and information while choosing a retailer. Hence, you should cater to this need and design informative product pages that are correctly optimized to meet Google's requirements. Here are some tips to help:
Add Product Descriptions
Craft unique and compelling product descriptions that incorporate your target keywords naturally. Highlight the benefits, features, and unique selling points of your products to attract users and rank higher on SERPs. Add a call-to-action (CTA) to drive conversions.
Optimize the Images
Add high-quality images in formats that are easy to load. Provide alt-text and captions to ensure convenience for users. You can also add keywords in the file name to make the images more SEO-friendly.
Highlight Reviews
Google prioritizes pages that provide insights rooted in first-hand experience. Reviews satisfy this requirement and help increase the trustworthiness of your site. Hence, you should feature reliable reviews to grow the SEO score for your e-commerce site.
3. Design a Mobile-Responsive Website
59% of shoppers feel that being able to shop on mobile devices is a crucial factor when choosing a brand. While many companies develop separate apps for smartphones, it is also vital to have a mobile-friendly website for shoppers. Responsive design, intuitive navigation, and fast-loading pages on mobile devices contribute to a positive user experience and improved SEO. A professional SEO agency can help you tweak technical SEO factors to ensure mobile-responsive performance.
4. Use Content to Your Advantage
A big mistake many e-commerce sites make is ignoring the value of content. Having little to no content beyond product descriptions can hurt your SEO prospects. Hence, you must develop targeted content pieces that cater to keywords with informational intent. Some ideas for adding exciting content to your e-commerce site are as follows:
Explanatory Content
Upload long-form content pieces to guide users about using and maintaining products. Sharing how-to pieces and beginner's guides can attract visitors and broaden your lead funnel. You can also add FAQs, glossaries, and video demonstrations to explain key concepts to users.
User-Generated Content
You can add reviews, testimonials, and other forms of content from your loyal users to add value to your site. These pieces can attract more users and drive conversions.
News Updates
You can add updates about the industry or new product launches to provide information to potential customers. These pieces can make your e-commerce site content-rich and attractive for users.
5. Focus on Link-Building
Backlinking can establish your site's credibility and encourage the search engine to rank it higher on the SERP. Hence, you should adopt best practices that help you earn more backlinks on third-party sites. Some strategies to achieve better link-building are:
Authoring guest posts on related websites.
Sharing blog posts and infographics through social media.
Posting press releases.
Publishing case studies and other types of informative material about the relevant domain.
These are some of the easy-to-apply best practices for optimizing your e-commerce site. However, the world of e-commerce SEO is vast, and you need the help of professionals to help you address all the aspects. From optimizing schema markups to improving site architecture, SEO professionals can help you go beyond the basics and stand out from the competition. Reach out to Forix SEO today to get more help with e-commerce SEO!
Let Us Get the Results You Want
The key to outranking competitors and reaching the top spots in Google really comes down to a comprehensive SEO strategy and a tremendous amount of effort. We have found a way to package both – simplifying SEO for our clients. Our team of experienced SEO professionals can help you achieve the outcomes you want at a reasonable price.